Ebios Risk Manager

Risk'n Tic Intègre la méthodologie Ebios Risk Manager , découvrez les 5 ateliers.
Atelier 1: Cadrage et socle de sécurité
Le but de ce premier atelier est de définir le cadre de l'étude, son périmètre métier et technique, les événements redoutés associés et le socle de sécurité.Définissez le socle de sécurité et les écarts.
Atelier 2: Sources de risque
Le but de l'atelier 2 est d'identifier les sources de risque (SR) et leurs objectifs visés (OV), en lien avec le contexte particulier de l'étude.
Atelier 3: Scénarios stratégiques
L'objectif de l'atelier 3 est de disposer d'une vision claire de l'écosystème, afin d'en identifier les parties prenantes les plus vulnérables. Il s'agit ensuite de bâtir des scénarios de haut niveau, appelés scénarios stratégiques.
Atelier 4: Scénarios opérationnels
L'objectif de l'atelier 4 est de construire des scénarios opérationnels. Ils schématisent les modes opératoires que pourraient mettre en œuvre les sources de risque pour réaliser les scénarios stratégiques.
Atelier 5: Traitement des risques
Le but de cet atelier est de réaliser une synthèse des scénarios de risque identifiés et de définir une stratégie de traitement du risque.
Our solution

Risk'n Tic is a comprehensive risk management solution. Its simple, intuitive and rich functionalities enable companies to quickly and efficiently reach global compliance updated in real time.
Risk'n Tic for IS security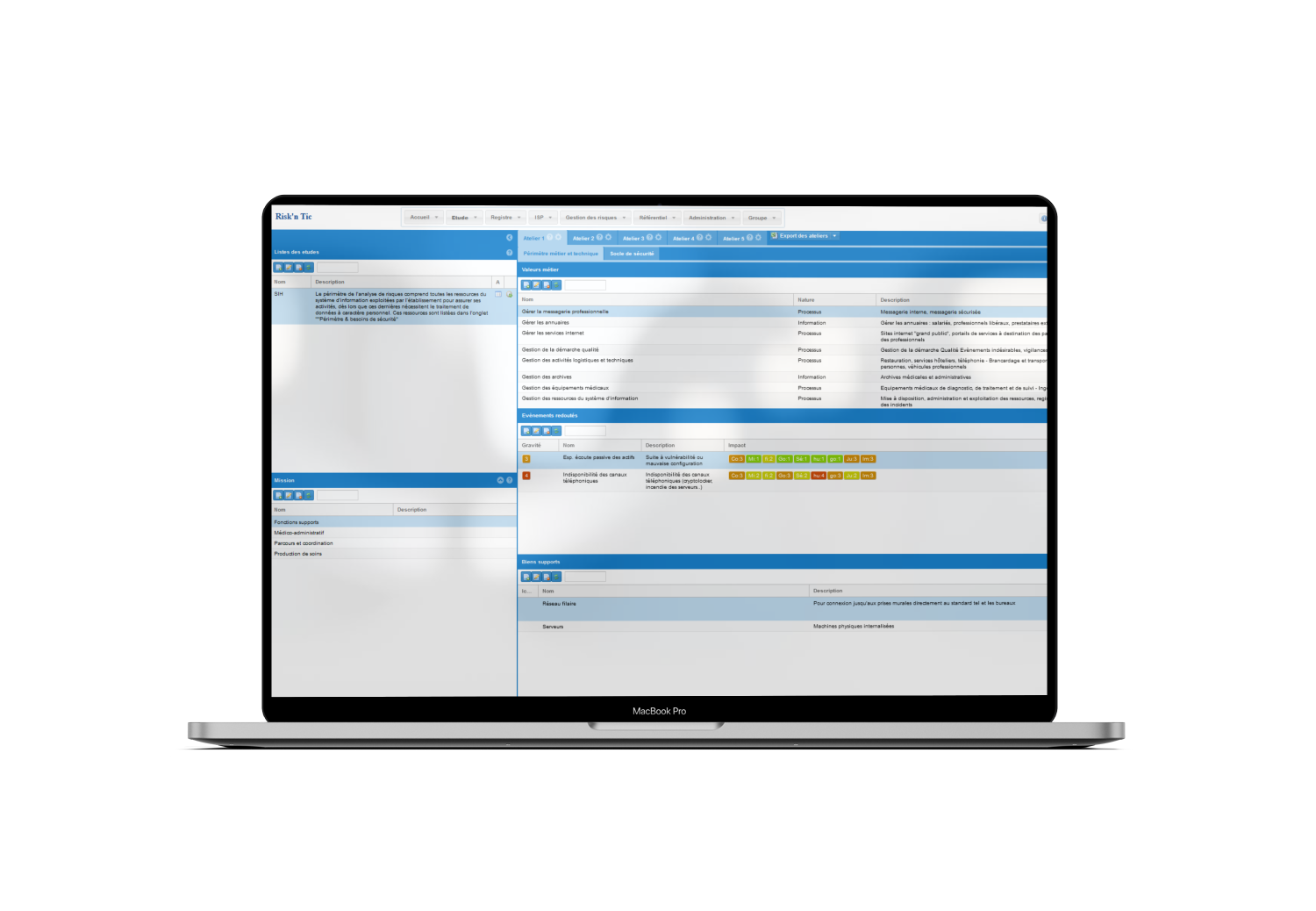 With Risk'n Tic SSI you can :
Pilot your RMIS, ISO 27001: 2013 compliance
Perform your risk analysis
With the EBIOS methodology and in compliance with the ISO27005 standard
Follow your action plans
Get your Statement Of Applicability
Perform gap analysis on different repositories (ANSSI, SOX, NIST, Guide of computer hygiene ….)
Follow your control plans
Linking RMIS with GDPR
Risk'n Tic with the colors RGPD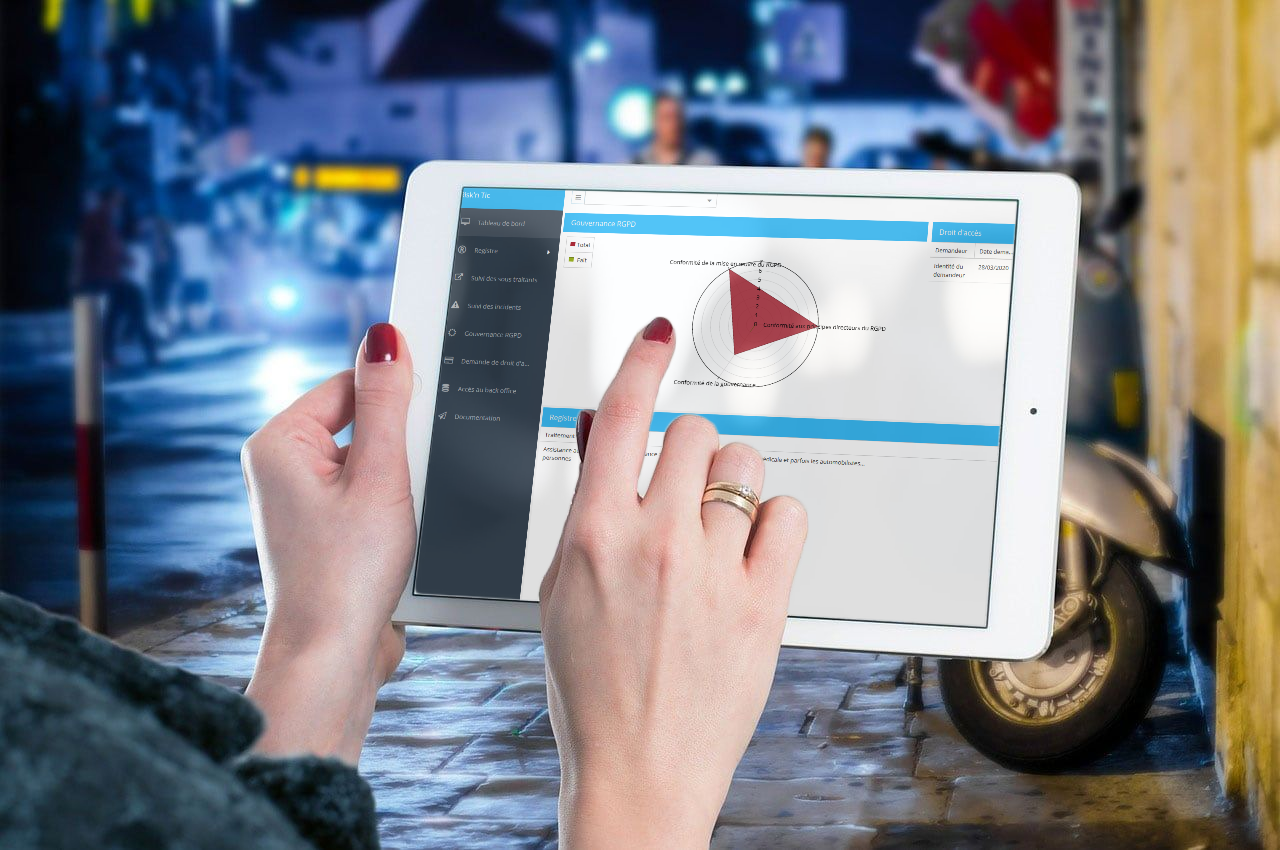 With Risk'n Tic GDPR you can:
Deploy the GDPR and feed your RMIS
Control your compliance on a daily basis
Communicate through analytical and fractal dashboards
Pilot GDPR compliance
Keep your processing registry up-to-date
Follow the proposed compliance action plans
Quickly get your gap analysis with regard to the CNIL governance label plan
Assess your impact analysis
Make the link between your RMIS and your Impact Analyzes
Our advantages

Homologation, Certification, Compliance, Risk Management (EBIOS, 27005), CIL / DPO Registry, Impact Analysis and especially for SME/TPE, a fast diagnosis of your SI with regard to 42 measures of IT hygiene of ANSSI
Saving time 75%

Compliance 100%
Customer satisfaction 98%

Availability 99.99%
Services

SAAS
With Software as a Service (SaaS) hosting, you can access your data and analysis 24 hours a day, 7 hours a week, 7 days a week, via a simple web page and since any sailor(browser). Your risk analyses are always available and you benefit from all our updates and addition of features.
On Premise
Integration of Risk'n tic on a server hosted internally; We help you integrate Risk'n Tic into your SI. You benefit from support via VPN or Site and regular updates. Contact Us, together we will study the best solution to integrate Risk'n Tic into your SI.
Intégration
You want specific developments! To link Risk'n Tic to your SI, Directory, Database, LDAP, etc .... Connect Risk'n Tic to your MDB, integrate your repositories and your Risk Analysis. Our development team will propose a simple and effective solution to meet your needs.
Cyber Diag
Cyber Diagnostic
Our partners

In implementing its security programs for the SI and the GDPR, Risk'n Tic has built strong partnerships with the various involved actors.
Contact us

Address :
SAS 823 360 177 0013 – Neuilly Plaisance
Tel :
+33 (0) 6 71 76 28 46
Email :
contact@riskntic.com
---
The information collected on this form is recorded in a data file by Risk'n Tic for contact. They are kept for the duration necessary for our relations and are intended for marketing and commercial services established in France. According to the law « Computers and liberty » and the European regulation called « GDPR », you can exercise your right of access to your data and have them rectified by contacting : DPO-SSI@riskntic.com